The paper business card alternative you need: Mobilo lets you exchange contact information with a tap of a card
By Jim James, Founder EASTWEST PR and Host of The UnNoticed Entrepreneur.
In the new episode of The UnNoticed Entrepreneur, Pieter Limburg talked about mobile business cards and how his company, Mobilo, can help entrepreneurs get noticed.
Mobilo was established two and a half years ago. Today, their cards have already been used over 1.5 million times across 199 countries.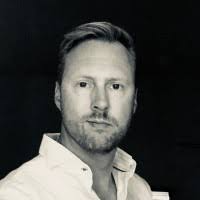 Image from LinkedIn
It Started With a Stack of Paper Business Cards
Pieter is a Dutch who moved to New York. Considering that, in his opinion, the Dutch are relaxed and toned down when it comes to networking, he was surprised at how everything was going fast in his new city. It was a completely different environment. In fact, when he attended a tradeshow back in 2019, he got about 90 paper business cards within three days. It meant he had 90 people to follow up with.
In New York and elsewhere in the globe, if you don't follow up quickly, people will forget about you and you might lose out on the opportunity to reconnect with someone.
Back in his hotel room where he was staying for the tradeshow, he looked at the stack of 90 paper business cards sitting on his desk and thought, "How am I going to ever put this quickly in my computer and not end up going to bed at four o'clock in the morning?"
So he tried applications with optical character recognition or OCR to scan them, but they didn't really work. And that is when he asked himself — Why are people still walking around with a paper business card when everything else is digital?
For him, it was rather a fixable problem. Yet, when he looked at all the available apps, most of them required installing another app or are simply not seamless. They also don't work with Customer Relationship Management (CRM) tools that you might have already been using, such as HubSpot, Pipedrive, or Salesforce. Then he realised that building an app is not the solution.
When he had the chance to come off with an RFID project, it suddenly came to him that that is the solution. It has to be a physical thing that, when you tap on a phone, can magically show up your contact details on the screen. No app will be necessary.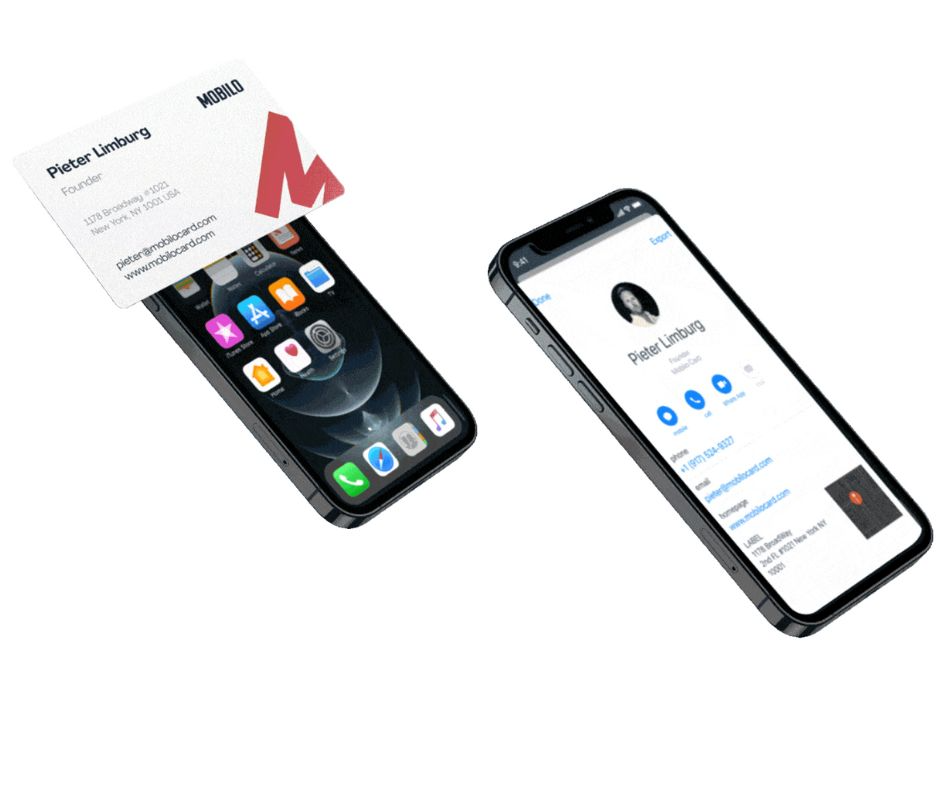 Screengrab from Mobilo
Upon building the first version of the Mobilo card, he showed it to a friend who was in the real estate space in New York and had him try out the card. And it turned out great. When that friend said that he wanted to change contact details, they started developing the card's lead generation mode and building all the features that their product now has.
Pieter also uses his own Mobilo card. When he taps it on a phone, simply clicking on a prompt would lead to the showing of his contact details. These include his LinkedIn, Twitter, website, and even his photo — all ready to be saved on that phone and be used to start a trusted relationship.
On Its Companion App, Styles, and Eco-Friendliness
The Mobilo card has a companion app. Whenever you make an update — for instance, you want to change your website's link, add a new social account, or change your office address — you simply need to go into the app and update your contact details. The moment you save these changes, they will be immediately reflected on the data contained in your card.
Pieter was quick to clarify that their card works without the use of any app. However, their companion app will let you see how many times or where you've used your card. If you use their lead generation mode, you can see where you've met a certain lead (together with their contact details) through the mini CRM tool in their app. This makes it easier for you to reach out to them in case you need to do a follow-up.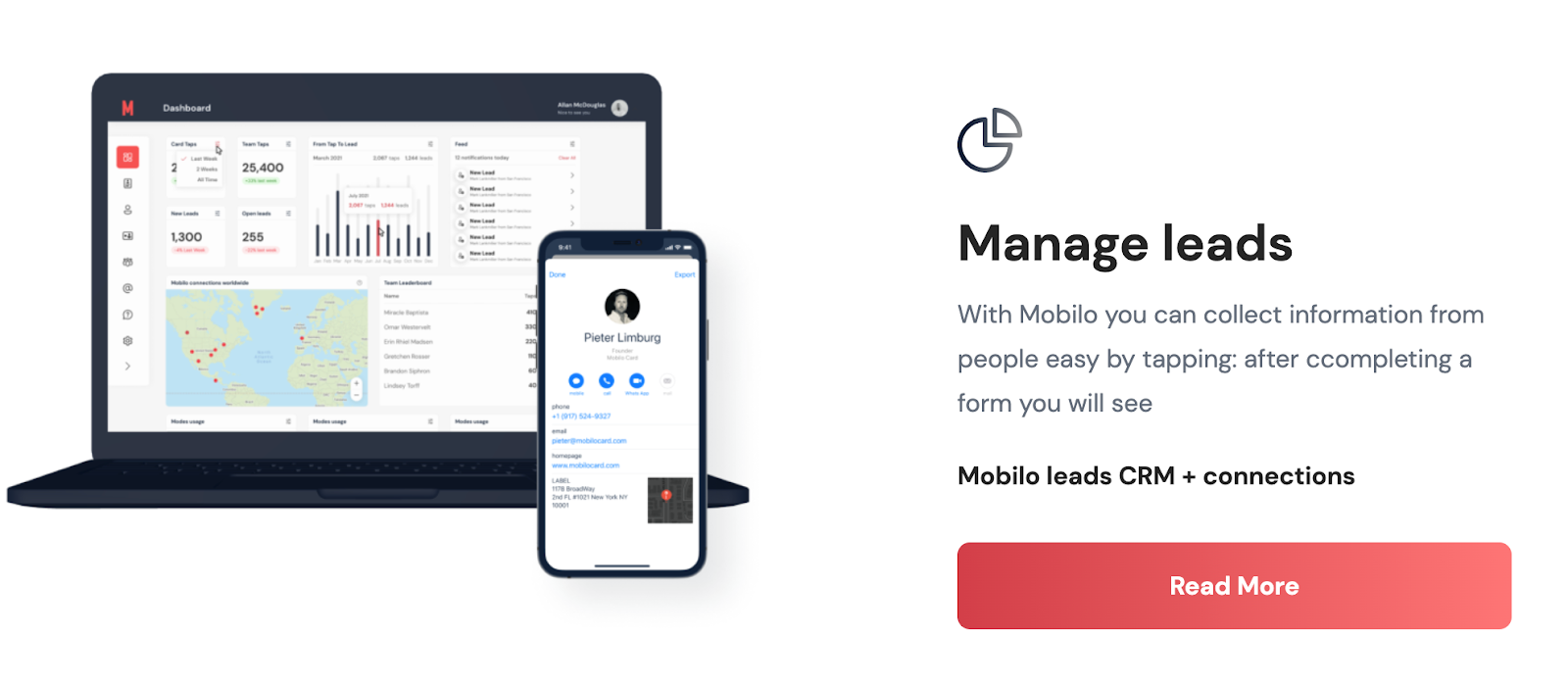 Screengrab from Mobilo
Mobilo cards also come in different styles. Their classic card is made of Polyethylene terephthalate or PET plastic, which can be recycled up to eight times. It also has a two-year warranty and you can use it well over 100,000 taps before it would start to wear out. The card is also printable in full colour both in the front and in the back.
They also have a wood version. And for every wood card that they sell, they're also committed to planting one tree. Because they only need one tree to produce 10,000 of their cards, they're actually giving back to nature way more than what they take. They source their wood responsibly as well.
They also have metal cards, which are being used by clients who are executives in the US and in Europe. Modelled after the Platinum Card of American Express, these durable cards are available in black, silver, and gold and can be laser-engraved by the design that you want.
This variety of design styles can help you reflect your company's corporate identity on Mobilo cards.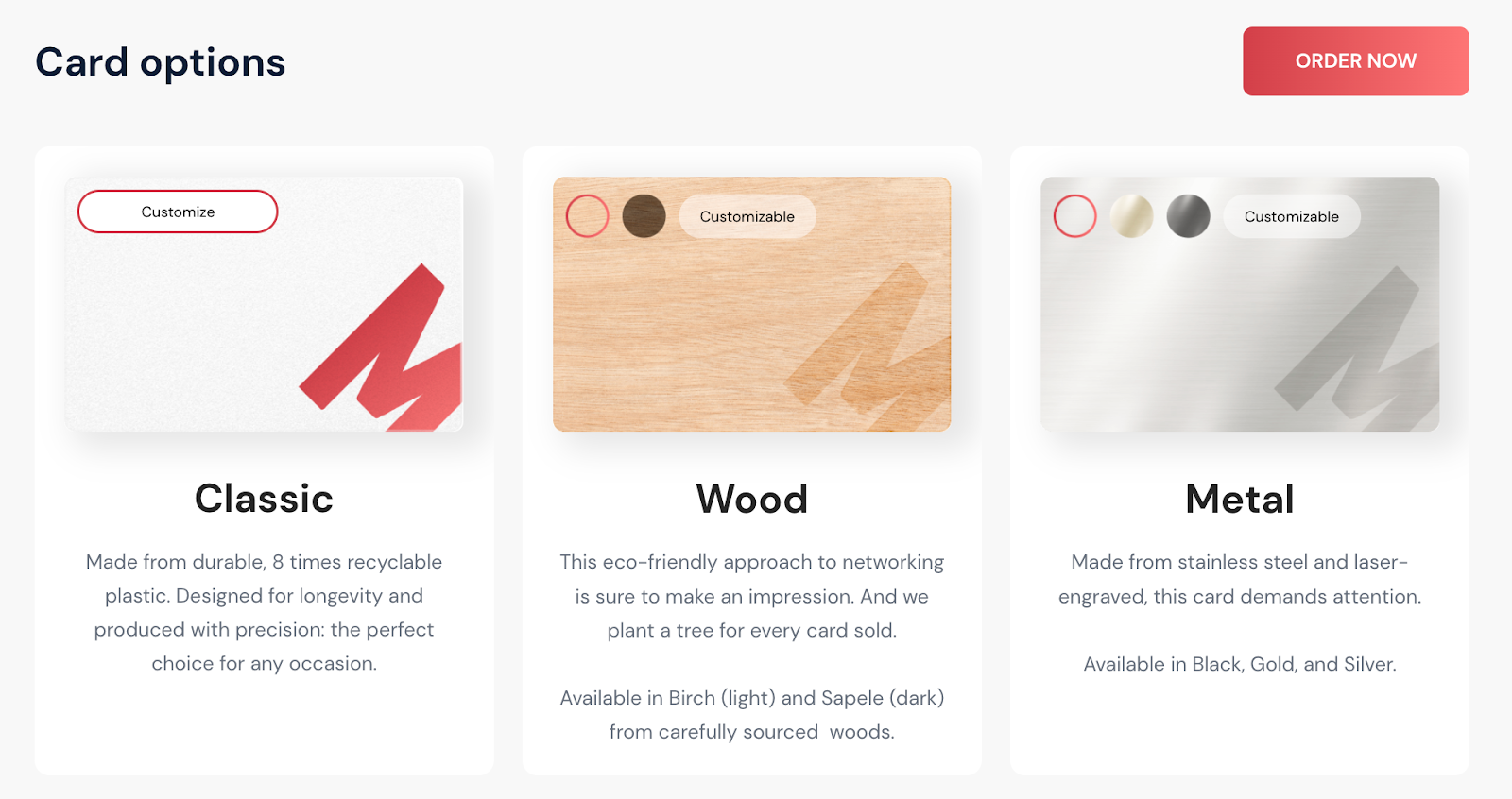 Screengrab from Mobilo
Managing Your Salespeople's Information with Mobilo
For corporates and big organisations, managing the information of their salespeople can be challenging.
Through their Mobile app, you can create a team and assign an administrator who has access to all the contact details of their team members. The administrator can easily update these contact details.
If you have 500 employees, for example, you can create teams according to your different departments (e.g. sales, marketing, operation, customer support). Then you can use their app to manage all these employees' different information and monitor their accuracy. On their app, you can also lock fields so that an employee or even an intern couldn't inappropriately or incorrectly change their data (e.g. their job title). They have controls in place so that nobody can abuse their system.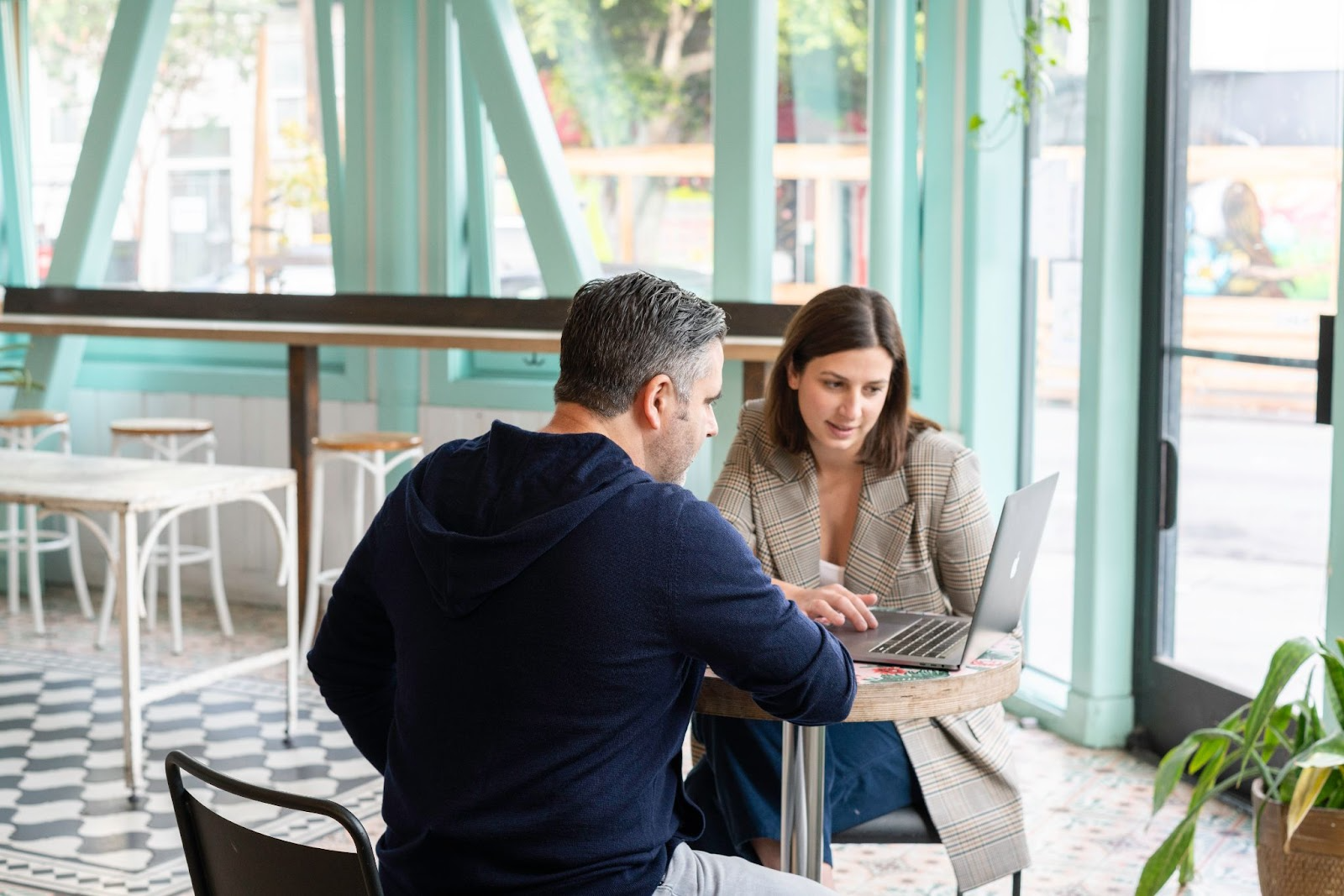 Image from Unsplash
If you're a much bigger organisation, you can also have their tool connected to the HR system that you're using. In this manner, if someone gets promoted or has their job title changed, it can be reflected on the app and the involved employee's card as well.
Whenever a Mobilo card is used, it always checks for the latest available information in the cloud.
An Easy Way to Spark and Preserve Connections
A big bane for most marketing and sales managers is data collection from all the people that they've engaged with — for instance, the leads they've gathered in a tradeshow. They rely on automation tools to take care of their administration tasks to save time and money. And this is why Pieter and his team built Mobilo.
With the Mobilo card, you can switch to lead generation mode. In this mode, instead of having your contact details revealed when you tap your card on someone's phone, you will be requesting someone's contact details.
Their app just needs two things: that person's work email address and their phone number. With these, they can search the internet and enrich the data with the help of around 150 online sources. They can find someone's company name, the company's domain, location, and size — and automatically create that person's profile. After you get that person's details and profile, your contact details will also be exchanged with them.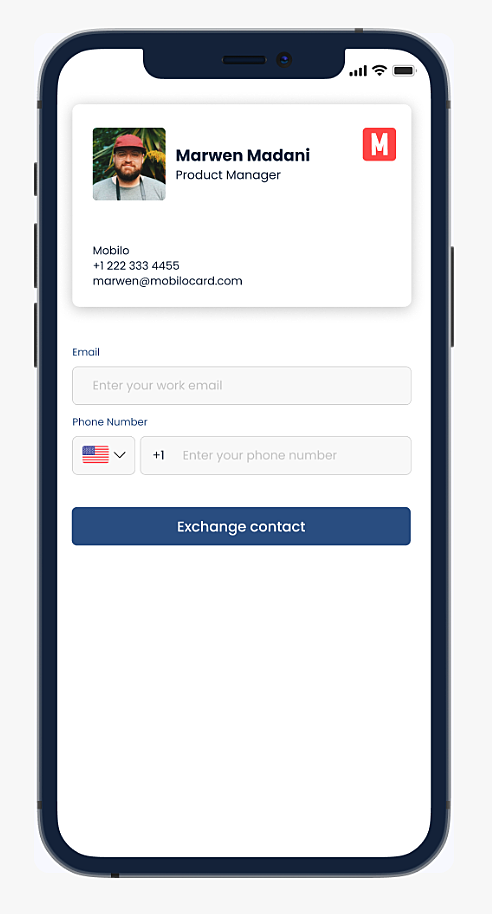 Screengrab from Mobilo
As mentioned, you can also connect Mobilo with the CRM tool that you're using. This allows that person's contact information to be automatically added to your CRM tool of choice. You can also link Mobilo with marketing automation platforms such as Mailchimp.
Clients who will avail of Mobilo will also get onboarding support. Recently, they had a large car dealership client with about 150 salespeople and they helped set up a system where the leads generated by the salespeople will automatically receive a follow-up after three days.
On Security
Mobilo's data is stored in a way that it should be easily accessible. As for security, users can count on security measures put in place by operating systems like Apple and Android to make sure that malicious content won't be thrown into the mix.
For their part, Mobilo also does things (e.g. having rate limiters) to ensure that they're blocking off bots or anomalous human behaviour. They are also working together with industry leader Cloudfare to keep their product and service secure.
By the end of this month, they will also have their SOC (System and Organization Controls) 2 Certification done. This makes them the first smart business card company in the world that has this kind of certificate.
Pieter further guaranteed that Mobilo will never sell or share your data without your permission. All necessary information about this is in their Terms & Conditions. Essentially, clients' data is very much theirs. Otherwise, they wouldn't have high-profile clients — including two Formula 1 teams, big hotel chains, banks, and cosmetic manufacturers.
Getting Mobilo Noticed
During the first month of starting Mobilo, the first thing that Pieter did was to build a website. He also ran Google advertisements to easily reach people who are searching for an alternative to paper business cards.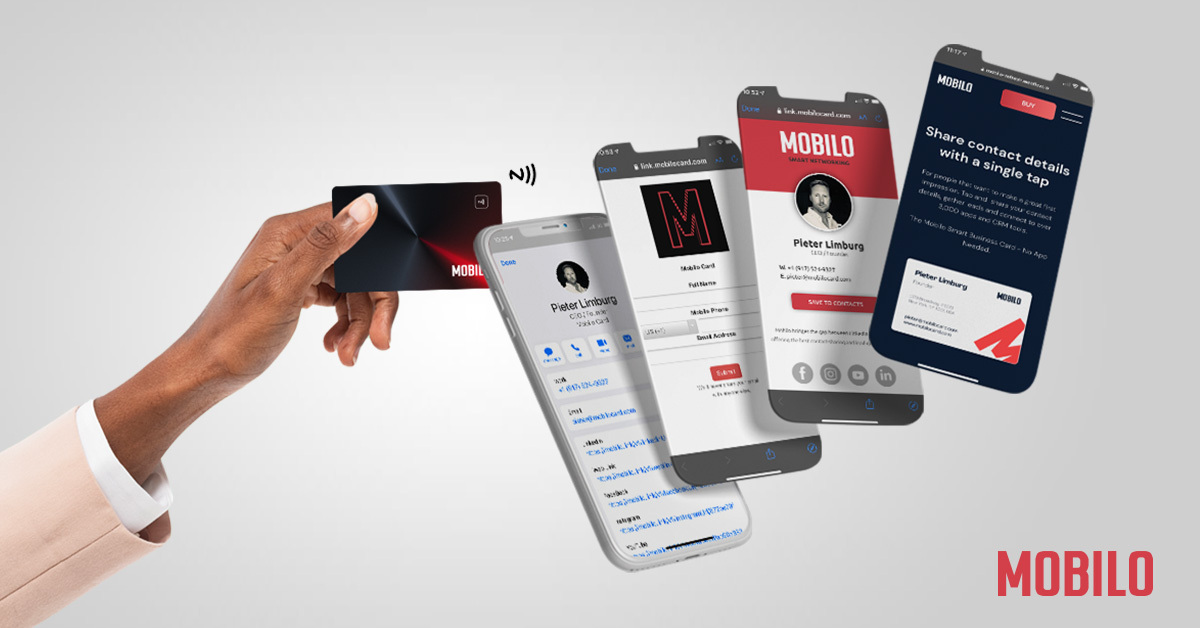 Image from Mobilo
However, doing that is just the start. You can easily get 100 people a day to come and look at your website, but what's more important is how you make sure you interact and communicate with them. You have to test your messaging and content and figure out if it's something that people want. Then, the most vital thing is to follow up.
If you could get 10 out of 100 people to visit your website, and two to ask you a question through a contact form or an email, you have to make sure that that question is answered within 15 minutes. Your response has to be quick because people are now used to instant communication.
But you don't only need to do it fast. You have to do it in a personal manner as well. You cannot simply send standardised messages — you have to listen to people and start a conversation with them. This is how you will get noticed.
Having an insightful conversation with someone can prompt that person to recommend you to others. This is why Pieter also considers referrals to be very important. They try to deliver the best product in hopes of getting people to spread the word. Even now that their cards have been used 1.5 million times in 199 countries, they still rely on word of mouth. Because once it starts, it will create a snowball effect that gets faster, bigger, and repeated.
This article is based on a transcript from my podcast The UnNoticed Entrepreneur, you can listen here.
Cover image by Giorgio Trovato on Unsplash